Decoration Deep Dive – Laser engraving and Debossing
You've heard this story before. Our hero is captured by the villain and wakes up strapped to a large metal board with a scary looking machine pointed right at them. The Villian monologues for a few minutes while the hero secretly works to escape this contraption they've been caught in. After having gone on and on about taking over the world, the Villain finally says their good-byes to the hero and flicks a large lever. The scary looking machine starts to glow at the tip and an intense beam of light shines down about a foot away from our hero. It slowly (painfully slowly) inches towards the hero when suddenly the hero frees themselves from their bindings and springs into action. Chaos ensues but in the end the hero saves the day.
That big scary machine I mentioned above? It was a laser. Which just so happens to be the first kind of decoration method I'm going to get into today: Laser Engraving.
Laser engraving your promotional products works similarly to what I mentioned above and what you may have envisioned in your mind except on a less scary and more streamlined scale. Laser engraving is the process of taking immense heat, narrowing it down and then engraving away at the material of the item you're getting. This process creates an elegant look with a high perceived value that lasts a very long time. Unlike a screenprint (putting paint on top of another material) we're engraving or etching your company logo into the item's material. This can create texture and works very well with lots of different types of materials. You don't need colors when using lasering as the material itself becomes the color of your logo.
The most popular materials you'll find lasering include:
Wood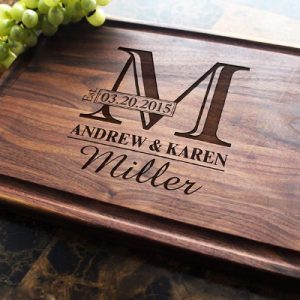 Check out this speaker with laser engraving or this 5000 mAh wireless powerbank.
Glass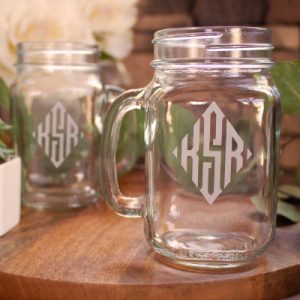 Glass drinkware is a great place to start. Likethis Corkcicle Cigar glass or this Corkcicle glass set.
Stainless Steel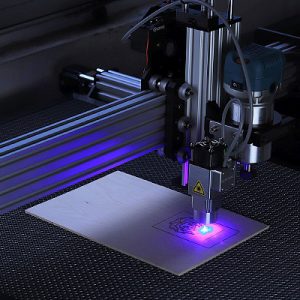 Powder Coated Stainless Steel water bottles are an excellent choice for laser engraving as the laser cuts through the powder coating revealing your logo in shiny steel below.
Take a look at this 16oz Camelbak Tumbler or this 40oz Mega Bottle from Basecamp:
But we're not just limited to the three materials I've listed here. Leather, polyester, cotton. There are lots of materials we can laser engrave to give you branding that's a cut above the rest. Contact us now and we can direct you to the best promotional products that take advantage of this great decoration method.
Debossing
One of our most popular products we sell are notebooks. More specifically the Moleskine Large Hardcover with Ruled pages. These notebooks are made in Italy and feature a deluxe faux leather cover. This material can take a couple of decoration methods but none better than debossing. Not to be confused with its cousin embossing, debossing is another elegant way to decorate your custom branded notebooks or other items. Debossing is the process of creating a plate of your logo (like a rubber stamp but metal) and then pressing it into the material. Because the process of debossing involves depressing your logo into the material it needs to be something that's less rigid than hard plastic or stainless steel. So this works really well with faux leathers and leathers. Since your logo is being stamped into the material it's not going to get rubbed off like screen printing. Similarly to laser engraving, debossing creates a bit of texture where the logo is placed which gives it a more elegant look and higher perceived value.
Some examples of notebooks with debossing: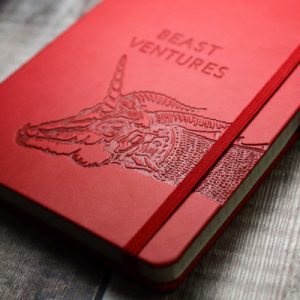 Tucson Medium Flex Ivory Journal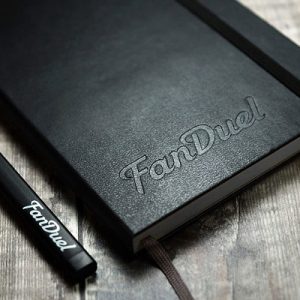 Moleskine® Large Notebook and GO Pen Gift Set
Did I mention that we can deboss leather? Leather patches are a huge hit and a way to give your apparel some rustic flair: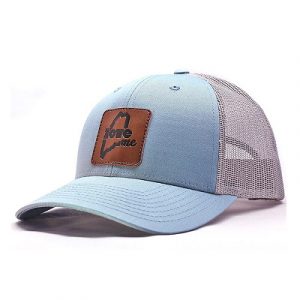 Hats like the New Era Snapback with Contrast Front Mesh or the New Era Speckled Beanie.
Adding a debossed leather patch is easy to items like jackets, sweatshirts, hats and more. Want more information about debossing and how it could look on products for your next promotional products order? Contact us now and we'd be happy to go over this classic decoration technique.
Blog post published: March 14, 2022